-
"I'm obsessed with this tape! I wanted to adhere shelving to my built-in without damaging the service and it works great. Now I can add/remove shelving with ease and display my nail polish collection. :)"
- Brittany Brooks 

✅ 

Verified Customer
-
-
Waterproof Adhesive Tape
-
Are you tired of using low-quality tapes? Or want to try some high-quality tape?
 -
Don't worry, as this waterproof adhesive tape is made with nanotechnology which makes it very sticky and strong adhesives. It is the best tape among all the others in the market with high tensile strength and high ductility. Because of strong adhesives, it will not pull off after some time and keep things intact. It provides a very smooth application. You can also use it for pictures as it is acid-free it will not destroy your pictures.
This Nano Magic Tape can be used however on wherever with whatever you want! This is probably the BEST tape you've ever used due to its outstanding adhesiveness & great waterproof ability! Nano Magic Tape uses a technology of nano which has various ways to make full use. It is more convenient than the traditional ways to attach things to the wall or stick them on the floor. Besides, This Nano Magic Tape can be washed so that it can be reused many times.
-
-
✅ MULTIFUNCTIONAL TAPE: Made from the latest acrylic-gel material, our transparent adhesive tape is incredibly strong, durable, removable, traceless, and leaves no residue. This super adhesive tape works perfectly in temperatures ranging from -16C(0F) to 62C(150F).
-
-
✅ EASY TO USE: Size: length 16.5 feet ,width 30mm(1.18in) ,thickness 2mm(0.078in). Holds up to 18 pounds on smooth surfaces (1 pound per 4 inches. This double-sided tape will stick to almost anything with a smooth surface and is easy to remove without damaging the surface, so you can stick anything anywhere.
-
-
✅ WASHABLE & REUSABLE & TRACELESS: Wash it in water and dry it for it to regain its stickiness when the washable adhesive tape becomes dirty. The removable double-sided tape is easy to remove and will not damage walls or surfaces and it leaves no residue. 
-
-
✅ Versatile Use: Use it to fix or paste items such as pictures, a car phone holder, wall stickers, hooks, sticky pads, and phone cases. This sticky transparent tape can be used in the office or at home and brings great convenience to your life!
-
-
✅ Weather Resistant: Whether you need strong adhesive power inside or out, the Stronghold Hook and Loop Tape is your solution.
-
-
✅ Damage-Free Adhesion: Easy to use with a stronghold; this tape is also simple to remove when needed and leaves no sticky residue behind, assuring your surface is clean and damage-free. Not intended to be used on drywall.
-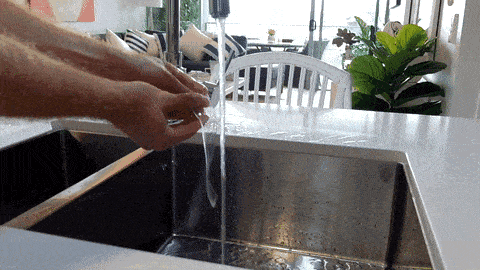 -
-
Have you ever faced the problem of losing your tape's stickiness because of water spillage? Or you want a type of area where water usually spills?
 -
No more worries, as this strong adhesive tape also comes with a waterproof property. It can be even washed and you can use it again.
 -
The product has a medium size and is light in weight which makes it highly portable so you can always keep it with you. This tape is very easy to use, you can be easily cut down according to your requirements.
You can use this tape for any surface including wood, marble, glass, and plastic, it will work effectively on all sorts of these materials. Another good thing about this waterproof adhesive tape is that it leaves no residue or mark on the surface when removed from it.
-
-
HEYYDAR GUARANTEE:
💯 Money Back: We will refund your money within 30 days.
💯 24/7 customer service: Contact info@heyydar.com or +13023131994
💯 Secure payments: All payments are made through Paypal or Stripe