"
Comfortable and sexy outfit for the summer/fall. Perfect for daytime wear or even date night. Shopping was much faster than expected.
"
⭐⭐⭐⭐⭐
-
Serena
✅ 
Verified Customer
-
Skirt Two-piece Set
-
Have you ever bought a skirt that looked very charming in picture but when it arrived, it had very poor quality and you were extremely disappointed?
-
Fear not, this classy skirt 2-piece set is made of acrylic, polyester, and microfiber. It includes a turtleneck shirt and pull-on pencil skirt and can pull double duty. You can pair them together for a chic head-to-toe look or wear them separately with all of your wardrobe favorites. The turtleneck shirt features long sleeves and subtle ribbing at the collar, cuffs, and hem.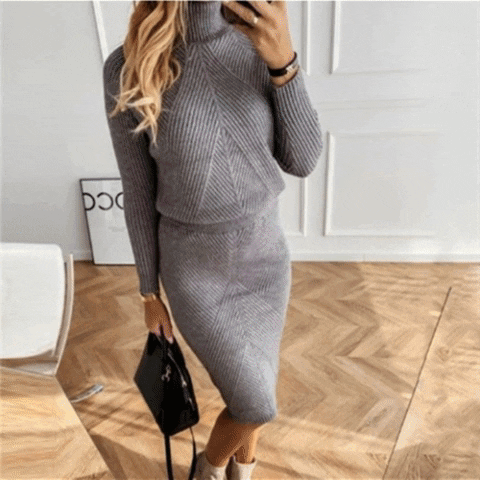 ✅ Supreme-quality Material – 60% polyester, 30% acrylic, and 10% microfiber. This 2-piece set is very stretchy, soft, and comfortable exhibiting supreme-quality material.
-
✅ 
Available in different sizes
: The skirt suits for girls and women of all sizes. With full sleeves and an office lady style skirt pattern, this skirt's two-piece set is super elastic,
especially underbust and the waist is stretchable.
✅ 
Charming design: 
The design with 7 different colors looks charming. The skirt is made of
superelastic material
that makes it easy to wear. You can pair the shirt with jeans, pants or other skirts and the same can be done for the skirt.
✅ 
Various occasions:
 The skirt two-piece set is suitable for party, club, nightclub, cocktail, clubwear, night out, casual, evening, daily wear, special occasions, and other activities to fully
show your perfect shape.
✅ 
Outstanding Quality:
The fabric quality is extremely amazing. It is soft, breathable, lightweight, and
comfortable to wear
. The two-piece matching set makes you look stylish and elegant.
✅ 
All-purpose style: 
The all-purpose style skirt two-piece set can be worn together or you wear the
top alone and then match
it with the other bottom and you can wear the skirt alone with other matching tops.
-
Size

Bust

Sleeve

Top Length

Waist

Hips

Pant Length

One size

88-106

67

60

64-88

80-104

68

Unit: cm
Have you ever bought a skirt that was thin and didn't hold perfectly? Or have you found skirt rubbish and shapeless and hem was coming loose?
-
This skirt two-piece set is made of fine material with good quality and fits as expected. You can choose the size and color from the chart to have the perfect fit skirt and shirt.
-
This gorgeous skirt looks super cute when worn and it can be easily paired with jeans, trousers, other skirts, and other tops as well. It can be a great choice for evening club party, beach, holiday, nights out and casual. It is trendy but comfortable and makes you look attractive and snatched.
-
HEYYDAR GUARANTEE:
💯
Money Back:
We will refund your money within 30 days.
💯
24/7 customer service:
Contact info@heyydar.com or +13023131994
💯
Secure payments:
All payments are made through Paypal or Stripe.