"I bought ice cube mold, filled it with water, and put it into water. I was not expecting an extraordinary feat from these ice cubes. Nonetheless, I witnessed something amazing. Even after taking the from the refrigerator, the ice remained sold for a long time. Instead of water, I put solid ice in my drink. I can enjoy my drink properly without water spoiling the flavor of the drink. Even, I can take the ice, in these cubes, to someplace."
⭐⭐⭐⭐⭐
-
Charles G.
✅ 
Verified Customer
-
-
Ice Cube Mold
Do you want to enjoy your drink without letting water spoil it?
Do you want an ice cube to keep the ice solid for a long time?
-
Once you have this ice cube, you can enjoy your drink unspoiled. Further, the ice will retain its solidness for a long time due to these ice cubes.
This, composed of upper and lower hemispheres, cube is easy to mold. Each hemisphere is made from a different material: upper hemisphere with silica gel while lower hemisphere with ABS.
The material used in the upper hemisphere is flexible. As a result, it can be kneaded easily without deformation. Also, it is easy to clean. You can easily separate the ice from the mold. Unlike traditional stiff plastic trays, It will never be a tough job anymore. The ice melts slower, and the cooling remains for a long time.
Hence, the flavor of the drink will not be lost. Slower melting, long cooling: Our large ice balls and cubes melt slower than your average ice cube, allowing you a more flavorful drink experience. Stop watering down your favorite drinks & Start using our giant ice balls design.
✅ Retains cooling: Most important problem with an ice cube is not to retain cooling. On the contrary, The cooling in this Cube mold remains for a long time. As a result, your drink will have the true taste.
-
-
✅ Slower melting: You can take the cube out of the fridge for a long time, yet it will be solid ice. For a long time, the ice will be solid and will melt slowly. Thus, this also helps to retain the taste of the drink.
-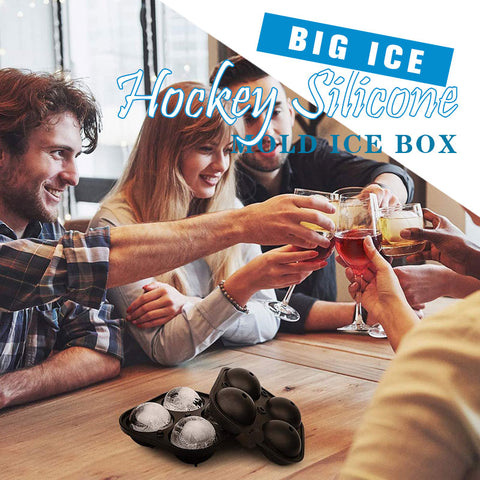 -
✅ Easy to clean: once you have used the cube, you can clean them easily. After use, you can easily clean the cube mold due to design. Thus, life becomes tasteful and much easier with the help of these cubes.
-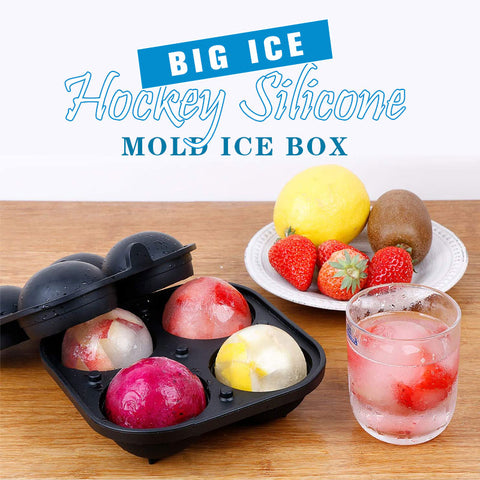 -
✅ No deformation: another biggest problem with another cube is that they are easily deformed. As a result, you can not have the ice of sufficient amount. On the contrary, these Cubes do not deform. Therefore, you can use it properly always.
✅ Two hemispheres: There will be no risk of water splashing in the fridge. The two hemisphere feature keeps the water and ice in their place. The Cube molds have two hemispheres: upper and lower.
-
-
✅ Durable: Many of the cubes become deformed and become useless. As a result, you can only use them for a short period of time. Unlike an ordinary cube, this cube mold is durable and lasts longer.
-
Do you want to separate the ice cube easily without having it melted?
-
With this ice cube mold, it is easy to separate the ice from the cube. Also, the ice will not be melted easily. As a result, you will have the pure taste of the drink—one who does not want to spoil the drink with water needs this ice cube. This Ice cube mold is an ideal product if you don't want to miss the actual taste of ice. 
-
Further, the durability of the cube mold is unquestionable. Thus, you can have a proper amount of ice for your drink. Whether you want the ice for common use or on occasion, these cube mold will be a great thing to have.
-
Product specification:

Ice Hockey 

Size:

 5.5 cm.




Material: Consumption of silica gel+ ABS.
Package includes:
1 x Big Ice Hockey Silicone Mold Ice Box.
NOTES:
Please allow 1-3cm measuring deviation due to manual measurement.
Due to the different monitor and light effects, the actual color of the item might be slightly different from the color showed in the pictures.
-
HEYYDAR GUARANTEE:
💯 Money Back: We will refund your money within 30 days.
💯 24/7 customer service: Contact info@heyydar.com or +13023131994
💯 Secure payments: All payments are made through Paypal or Stripe.