-
"I have a lot of crazes related to my hairstyle and use to visit my favorite hairdresser, but one thing always used to irritate me, and that is the mess which is created when the cutting is being done.  For that purpose, I looked for a product that could contain all the hair mess in it and provide me with extra protection and a clean atmosphere. Then I came across a product which can solve my query, and it has special adjustability function as well, which transforms my whole haircutting experience."
⭐⭐⭐⭐⭐
-
Chris Silver
✅ 
Verified Customer
=
=
-
Hair Cutting Cloak Umbrella Cape
- 
Do you want to get a product which will solve all your problem regarding haircutting mess and all?
Are you looking for innovation in respect t your hairdressing?
- 
Buy the Haircutting Cloak Umbrella Cape, which will provide you with a changed experience concerning your hair cutting.  The product's best feature is its adjustability, and anyone can wear it, whether child or adult.
Look for this product and don't worry about the mess which is created through haircutting. The umbrella cape is specially crafted to capture all the Hair through it automatically. In addition to that, it is easy to clean and manage.
-
✅ Convenience: It provides convenience to the users as they don't need to worry about the dirt generated by hair-cutting anymore. It is mainly done with the umbrella cape, which I designed so that all your hair-cutting mess will store in the cape.
-
-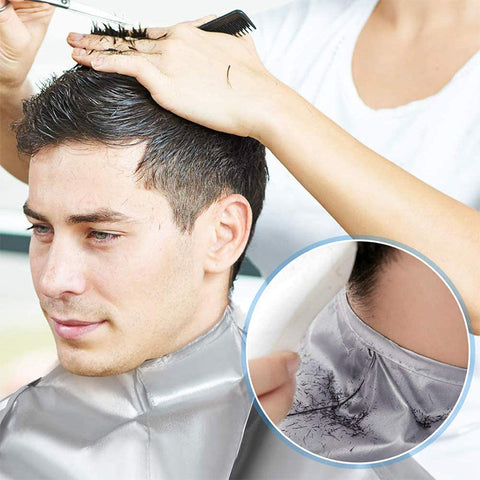 -
✅ Ideal for Beginners: As it is user-friendly and easy to be used, it makes the product ideal for beginners to look for. Their queries regarding hairstyling are solved through it. The product comes with all the necessary details and guidelines, which will surely assist beginners during the hair-cutting process.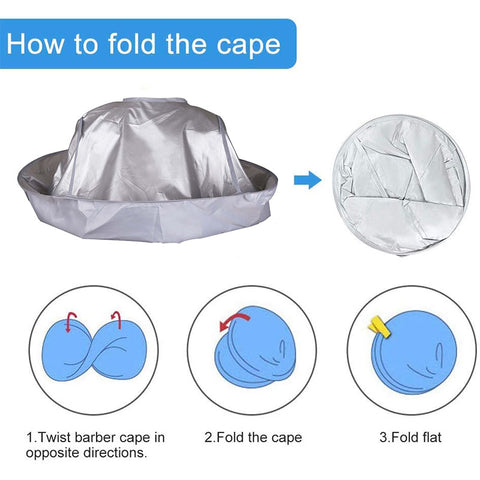 -
✅ Durable: The cloak remains durable for a longer period and provides maximum satisfaction to the user concerning their hairstyling. As the cloak is made from a premium quality material, this product lasts very long and is easy to clean, making it easy to be re-used by the customers.
-
✅ Light in weight: It is light in weight and makes the user feel comfortable while wearing it on their neck for their hair-cutting purpose. As this hair-cutting umbrella cape is very light in weight, it can also be used by children, and so now the hair-cutting process will not disturb them.  
-
SPECIFICATION
| | |
| --- | --- |
| MATERIALS | high-quality waterproof nylon cloth |
| PRODUCT WEIGHT | |
| PACKAGE CONTENTS | |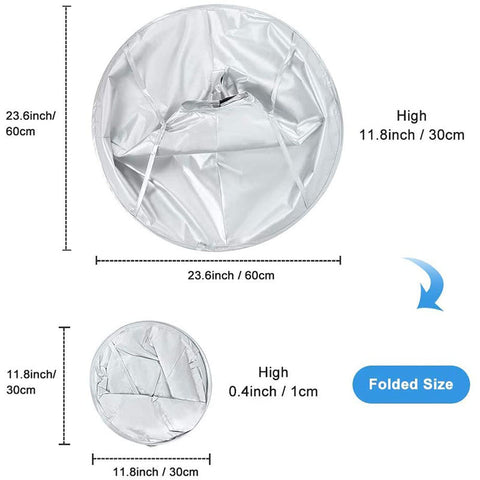 -
✅ Portable: The product is highly portable and can be used for multi-purposes as well. All hairs are hatched through the cloak and provide the finishing touch to the user by trimming their beards. Due to its lightweight, this product is highly portable, and the users can carry it anywhere they want.
-
✅ Perfect as a gift:It is a perfect gift for the males and husbands, as, through it, they can fully satisfy their hairstyling adventures and, top of all that, get the extra benefit of trimming a beard. This product makes the hair-cutting process easier for men, so they will not have to wait in long queues just for a simple haircut.
-
Are you thriving for a product that will clean all your hair mess and provide a clean look, in addition to trimming facilitation too?
-
By choosing Hair Cutting Cloak Umbrella Cape, all the problems regarding cleanliness and irritation are solved. The product can be clean away easily, and due to its high-quality material, the product is highly durable and will assist make the hair-cutting process much easier for you.
The hair-cutting umbrella cape is highly friendly to the users, and so youngsters will be able to trim their hairs without having to wait in long queues at the barbershop. The product is also very light in weight, and so it is highly portable, making it easy for the users to carry it anywhere they want.
=
=
NOTE
Due to the different display and lighting effects, the actual color of the item may be slightly different from the color displayed in the picture.
 -

HEYYDAR GUARANTEE:
💯 Money Back: We will refund your money within 30 days.
💯 24/7 customer service: Contact info@heyydar.com or +13023131994
💯 Secure payments: All payments are made through Paypal or Stripe.