"
Works easy and fast. We've been catching a lot of perch and scaling them has been a real pain. This scaler works better than I hoped. The scales come off really fast without tearing the skin and they don't fly in all directions. I'm ordering a second one for when I'm not the only family member cleaning and scaling fish.
🐟"
⭐⭐⭐⭐⭐
- Amelia Sanders  ✅ Verified Customer
-
 Fish Skin Brush
-
Do you love to cook and eat fish, but descaling the fish creates a mess in the kitchen?
-
Fish-shaped Fish Cleaning Tool with a clear cover case which serves as a holdall for fish scales while descaling fish. This helps to promote a clean environment while performing the unappealing task every fish lovers hate.
-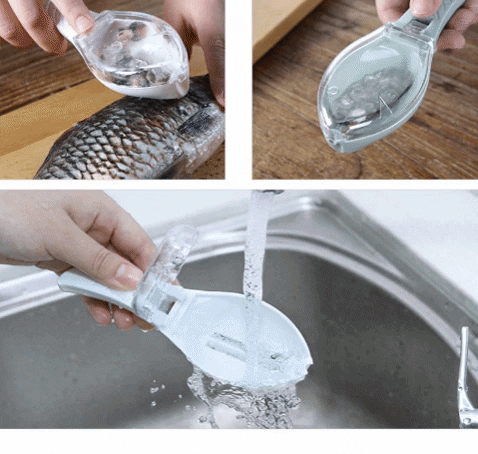 -
-
✅ Clear Cover Case: Holds all the scales which can be opened at the back to empty scales. It is quite practical and easy to clean.
-
✅ Superior Quality: Adopted high-quality ABS and AS material, durable and has a long-term service life.
-
-
✅ Convenient to store: There is a hole at the back of the fishtail which may be used to hang it on the wall when not in use, which saves space.
-
-
✅ Easily remove Fish Scale: Compared with traditional knives, our product can remove the fish scale as fast as it can without a messy kitchen. More importantly, it is quite Safe.
-
-
✅ High-Quality Material: All pieces are sturdy and durable, which are made of premium quality harmless and non-toxic ABS plastic. Plastic serrated blades unlike the traditional method of fish scaling, this fish-shaped remover can save you from the risk of getting a cut during the process.
-
-
-
✅ Usage Instructions: Put the scraper on the fish scale and move it left and right to remove the fish scale and collect the fish scale in the box. Just open the box and pour out the fish scales, simply rinse. It is a good helper in your kitchen.
-
-
Are you fearful of getting your hand hurt while removing the scales of the fish using a knife? Is cleaning the fish skin brush a difficult task with your product? Does your fish skin brush get dull after few uses?
-
-
Sit back and relax! Unlike ordinary knives, the top-notch quality fish skin brush is extremely safe for your hands. You can open the transparent cover from the back and remove the scales then, simply wash it under the water. Even for a long time, the fish skin brush remains sharp, which makes it durable.
-
Add a perfect knife to your collection of cutleries that is useful and easy to store, thanks to the hole at its end that lets you hang it.
-
-
HEYYDAR GUARANTEE:
💯 Money Back: We will refund your money within 30 days.
💯 24/7 customer service: Contact info@heyydar.com or +13023131994
💯 Secure payments: All payments are made through Paypal or Stripe.