-
"
This guy is excellent quality! I gave it as a gift and my friend was so excited! I am hoping to collect multiple poses for wall art that will turn heads!
"
⭐⭐⭐⭐⭐
- LRK 
✅ 
Verified Customer
-
Creative Rock Climbing
-
Are you tired of decorating your living room with paintings, wall hangings, wallpapers, and many more, and now, you desire to have something exceptional?
-
Let's upgrade your bare living room wall to something, unique, new, and amazing. We have Creative Rock Climbing for you that will enhance the elegance of your place at the best levels. The ordinary and traditional wallpapers and stickers are way too boring now.
They are also not reliable in sense of affecting the wall and destroying its paint and texture. But these beautiful rock climbing sculptures will give an enhancing touch to the walls. You can impress your guests and visitors at a glance only now. This creative rock climbing sculpture of a man climbing the rock depicts taking risks in life and be courageous and passionate towards your goals.
Thus, this keeps you motivated all the time. So grab this beauty right now and enjoy the amazing envy of your guests.
✅ Top- Quality Metal Texture: Use Environmentally Friendly Resin Materials, Sustainable, Light, Luxurious, And Fashionable. The Metallic Texture We Created Makes This Sculpture Look More attractive.
-
-
✅ High-quality Materials: Resin Raw Materials, High-quality Materials, Tough And Durable, Healthy And Environmentally Friendly, Hand-welded Technology, Corrosion-resistant, Wear-resistant, Not Easy To fade.
-
-
✅ Great Gift: Great Gift Idea For Any Occasions Like Housewarming Party, Birthday, Graduation, Wedding, Mother Or Father's Day, Christmas, Easter, Thanksgiving, New Year, Valentine's Day, Holiday Gift.
-
-
✅ Smoother Lines & Modern Aesthetics: Wall-mount sculpture of a man climbing a rope, embodies the spirit of courage to take risks.
-
-
✅ Rock Climbing Statues: Wall-mount Sculpture Of A Man Climbing A Rope For Distinctive Decor Accent. Climbing Man Sculpture Can Be Placed Indoors Or Outside. It Can Be Used For Decorations Of Families, Living Room, Office.
-
-
✅ HAND FINISH: Through ergonomic analysis of human bones, muscles, joints, ligaments, and other tissues, smooth lines, angular and hand-carved intricate details, exquisite workmanship.
-
-
✅ WALL ATTACHMENT: Metal climbing rope configuration, twisted loop knot, round peg, for quick and easy installation. Can be hung at your choice of height, use as a decorative item.
-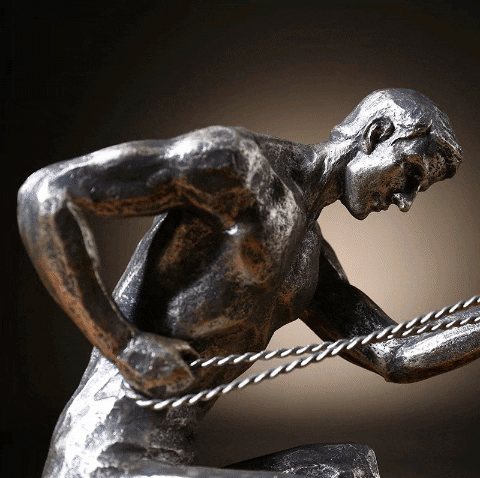 -
-
Do you like creative rock climbing but you are unable to find a way to bring that into your space? Is your room smaller for a large rock climbing? Are you facing difficulty in mounting the creative rock climbing?
-
Don't think more because we have a wonderful and creative rock climbing for you that can be mounted on your wall. Available in different sizes, it makes it easier for you to choose the one according to your room. The concise design makes it easy to install.
-
Follow the modern aesthetics and embellish your surrounding with your favorite activity. Not only it makes your room look unique, but adds a touch of strength and courage.

Product specification:

Material: Resin + wire...
Style: Europe.
Weight: About 800g.
A: Man size 32.5 * 10 * 13CM, total length 85cm (including wire).
B / C / D / E: Man size 21 * 17.5 * 11CM, total length 75cm (including wire).
-
-
HEYYDAR GUARANTEE:
💯 Money Back: We will refund your money within 30 days.
💯 24/7 customer service: Contact info@heyydar.com or +13023131994
💯 Secure payments: All payments are made through Paypal or Stripe.