-
"I really like these food savers. They really do the job. I use them quite a few times a week. I've used them for burgers, salmon, sausages, hot dogs, peppers, onions, etc. I have had a great experience with these food saver preservation trays. Definitely would purchase again!"
⭐⭐⭐⭐⭐
- Marisa Starr 
✅ 
Verified Customer
-
Creative Food Preservation Tray
-
Do you often need to store some food for later use, but the cover allows the air inside, which causes bacterial growth?
-
Say Goodbye To Disposable Plastic And Food Wraps! This 2020 Fresh Food New Idea – Creative Food Preservation Tray is the new trend. It keeps food fresh and 100% bacteria-free. 
It has a buckle design to seal and lock the food without overflowing. Having an advance elastic film, this tray gives you an outstanding resistance to any weight and puncture to obtain high durability. It also allows you to pile up multiple layers to save space and to have organized looking storage space. It is a money efficient product indeed since it is completely reusable. 
Great for any type of food. Including raw meat, fish, nuts, bread, fruits, vegetables, cooked meals, or even leftovers. It is also ideal for picnics, barbecues, camping, and parties.
✅ 
Top-quality material:
 Food grade material-vodeson food
preservation tray is made of food-grade
pp material and high elastic tpu, safe and caring for your health while
durable plastic
for frequent use.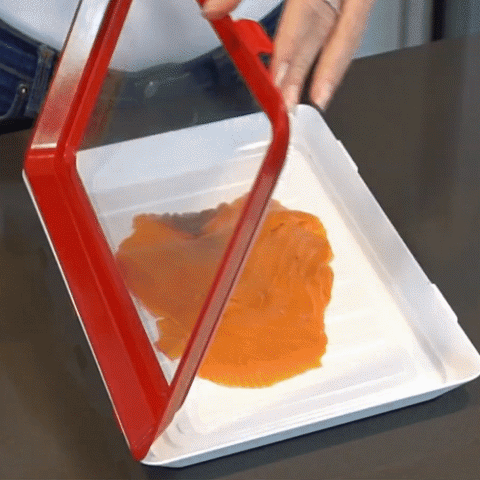 -
✅ Reusable and environmental-friendly: Creative elastic film, zero waste reusable food and container, environmental protection and minimize the use of vacuum sealer rolls and bags.
-
✅ Keep Food Fresh: The magic elastic Food preservation tray has a leak-proof lid can seal and secure latches prevent spills and leaks and help keep food fresh and secure.
-
 -
✅ Easy to seal: Keep your food fresh for a long time. Suitable for home life, camping, party, etc. if the plastic film comes to be deformed, add some hot water in it and will come to original looking soon.
-
✅ Portable and Useful: It is a great tool for the kitchen, camping, parties and also suitable for refrigerated cabinets. Variety of occasions and events—like lunches, snacks, meal prep, parties, holidays, and more.
-
-
✅ Stackable: The Food Preservation Trays works better than disposable plastic packaging and plastic bags. Creative design is made to be stacked on top of other food preservation trays to save tons of space in your refrigerator.
-
Have you ever bought something to preserve your food that doesn't seal up? Are you facing difficulty in preserving more than one food? Do you want to save money by not buying the food preservative tray again and again?
-
The air-tight lock and seal of the food preservation tray keep your food safe from getting stale. You can stack up multiple foods, all thanks to the innovative design. Plastic warps need to buy again and again, but this food preservation tray is reusable hence, saves you a lot of money.
-
The food preservation tray is made from environment-friendly materials and is quite durable. Free from BPA and other toxic chemicals, this product is all that you want.
-
HEYYDAR GUARANTEE:
💯 Money Back: We will refund your money within 30 days.
💯 24/7 customer service: Contact info@heyydar.com or +13023131994
💯 Secure payments: All payments are made through Paypal or Stripe.