-
"My wife has been buying the cheap bandages. I bought these, and within five minutes of her applying them, she remarked how well it stuck and how it stretched when she moved to conform to her hand. She isn't going to buy any more of the cheap ones. 
I highly recommend this wrap, and I think it's a great deal."
⭐⭐⭐⭐⭐
- MASHED U.  
✅ Verified Customer
 1pcs Multi-functional Bandage
-
Have you ever bought a very non-sticky bandage and irritates your wound?
-
Hurt yourself with the sharp edges of a new pair of shoes? A multi-functional Bandage is here for your first aid. This easy-to-use and on-the-go bandage is a strip of fabric used to cover, dress, and bind up wounds.
You can tear it randomly according to the length and size of the wound. Now your injuries won't remain open, and you can heal them up quickly. This bandage can be used on any outer part of the body, such as heel, ankle, finger, toe, sole, and it is an essential one to keep with you all the time. It can be carried in school, office, events, hiking, swimming, and where not.
This is your quick first aid. Its high elasticity makes it very comfortable and easy to use. It leaves on residue and is easy to apply and tear off. Order yours now because safety always first.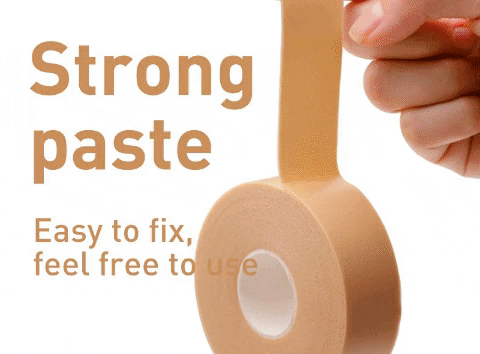 -
-
✅ MATERIAL - Made from high-quality Polyethylene Foam material, soft and skin-friendly, latex-free, and waterproof on the surface, suitable for most situations.
-
✅ EASY USE AND EASY MOVE- You can easily tear the soft Welnove Heel Grip Tape without tools and effortlessly remove it from the skin. If you don't touch water, every section of tape can stay on your skin for more than 10 hours.
✅ DO MORE FOR YOU- Designed to provide cushioning of painful blisters or wounds and shields from further friction on foot, but also can be used to protect in other areas that are easy to rub. The same applies to shoes or boots.
✅ Elastic Adhesive Tape For Your Recovery & Satisfaction - California Home Goods is always looking for budget-friendly products that will make your life easier. That also means that we stand by the quality of our self-sticking bandage wraps or cohesive tape. Just in case you encounter problems with the self-adhering wrap or you're simply unhappy with your purchase of our self-stick bandage wrap, all you have to do is reach back out to us, and we'll be glad to improve your overall experience.
✅ BREATHABLE AND WATER RESISTANT – Premium porous non-woven material allows the skin to breathe and provides more comfort to users. The bandage roll is water-resistant, so the bandage tape is not easily slipped by sweat or water.
✅ Water-Resistant Stretch Bandage Wraps - Although our first aid wrap self-adhesive tape is made from a breathable, non-woven, porous material, it is also water-resistant. No matter how much you sweat, and even if you take a bath with it, our high-quality elastic adhesive tape won't quickly get loose. And be assured that as our water-resistant and sweat-proof self-adhering tape provides you reliable support and protection, it will never cause rashes and other irritation to your skin.
-
-
Are you looking for a bandage that is pocket-friendly as well as easy-to-travel? Do you need scissors every time you tear a piece of plaster? Does water enter into the application resulting in infection to the wound? 
-
The multi-purpose bandage is skin-friendly and compact, so you can carry it along with you whenever you are on the go. The easy-to-tear application offers you hassle-free usage and superb quality. It is 100% water-proof and wear-resistant.
-
Let your wounds heal in very little time using multi-purpose bandages. They can be used when hard slippers cause a rash on your feet while dealing with sharp objects, cover the wound to prevent infection, heal broken skin, and many more.
These breathable bandages will not get off your wound after few minutes, but they will stay there for more than 10 hours.
-
A HEYYDAR Promise
At
www.heyydar.com
, we believe in the quality of our products. Therefore, we offer a
30 Day Money Back Guarantee
with no questions asked! When you purchase from us, there is
ZERO Risk
for you!
Congratulations!
You've found a hidden discount code! Use code
"FISRT10"
at checkout to claim an additional
10% OFF
your ENTIRE order!
Customer Support: