"-
"If you want to grow plants inside your home then you can have indoor growth of these herbs using this Automatic Sprouted Machine. It grows seed automatically and you need not worry about it. In other words, it has an auto-watering system and the best temperature maintenance. It performs all the activities required to grow indoor herbs. It can grow a wide range of seeds including string beans, Buckwheat, Spinach, red peas, and green peas, and much more. So, if you want to grow different seeds to add to your diet then this machine is suitable for you."
⭐⭐⭐⭐⭐
- M
ark Tailor
✅ 
Verified Customer
0
0
0
Automatic Sprouter Machine
Do you want to grow beans or other plants at home without waiting for a season?
-
-
This is one of the best machines to grow plants comfortably at your home. It has three different temperature stages to choose from. Also, the selection of the temperature depends upon outside temperature and season. It includes spring, summer, and winter temperatures. So, you can grow any type of plant without waiting for any season, at home.
The entire process is automatic. The automatic Sprouted Machine has an intelligence system that provides plants with enough water that they need. It provides a proper amount of water that even human beings cannot themselves determine. It is easy to grow beans on your kitchen's deck within a matter of days. It helps you to add different diets to your life.
-
✅ Easy to use: The automatic sprouted machine is easy to use. It works automatically to the larger part. It not only save your time but also let you grow with greater efficiency. This has a relatively bigger space to grow different plants with ease.
-
-
✅ 360 water spray: It has a water sprinkler that can work 360 degrees which ensures you the maximum output. It prevents plants from getting pale or dehydrated. It provides only a limited quantity of water to the plants so that they don't get pale due to excessive water.
-
-
✅ 3 modes: It has three modes of temperature. It depends upon your choice to grow the type of plant. The machine can grow any type of plant under any season. It provides a suitable temperature to grow different plants from any season due machine's ability to maintain temperature.
-
-
✅ Variety of options: The machine has been better equipped with a modern system to grow almost all types of plants under such an area. Therefore, it provides you greater for growing a variety of seeds.
-

=
✅ No soil: It requires no land this grow beans from legumes-year. It has everything built to grow different plants. The product is almost out of the box use. Once you start using it, you'll see amazing results. 
-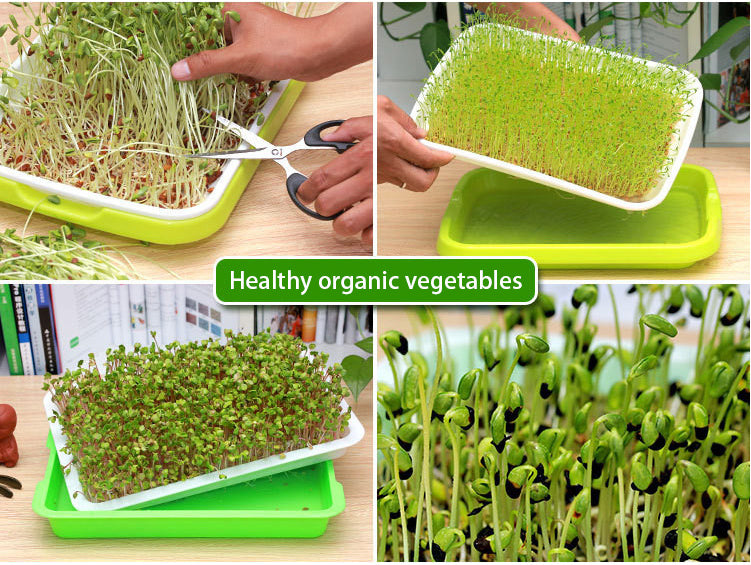 -
✅ Limited size: It not so wide nor so small. It has a medium-type size that is fit for home use. The size makes it easier to use and take it from one place to another. This size is ideal for use and designed according to the user requirement. 
-
-
Do you need a machine that can grow a range of seeds?
0
This automated sprouted machine can grow almost all the types of plants that can fit into its space. This has food-grade plastic. It does not get mixed into the food to harm it. This type of plastic does not get mixed with the food and therefore, does not causes any typical taste in it. This automated sprouted machine provides you the control of the sprouted time.
-
You might get worried that it has water and electricity that can cause damage if combined. But there is nothing to be worried about this has a completely safe and proper safety mechanism to ensure the separation. If you are changing water the machine will continue to work. This machine has almost eight hours of memory function.
Package Included:
Seedling tray:1 x Manual seedling tray+1 x Watering can
Automatic sprouter machine:1 x Automatic sprouter machine. 
-
HEYYDAR GUARANTEE:
💯 Money Back: We will refund your money within 30 days.
💯 24/7 customer service: Contact info@heyydar.com or +13023131994
💯 Secure payments: All payments are made through Paypal or Stripe