Automatic Sprouter Machine
Product description
NOW IS YOUR CHANCE TO GROW YOUR VERY OWN ORGANIC LEAFY SPROUTS RIGHT IN THE COMFORT OF YOUR HOME.
This Machine can grow the following:
Bean Sprouts, Spinach, String Beans, Black Beans, Buckwheat, Okra, Helianthus Annuus, Hollow, Radish, Mustard, Songliu, Green Peas, Red peas and much more...
No soil required. Grow nutritious sprouts from seeds and legumes-year round
360-degree sprinkler, to prevent uneven germination of beans. Save electricity with PTC heating
Easy to operate: The Start button is pressed first and then the corresponding season button is selected according to the room temperature
If the power supply is interrupted within 8 hours for changing water or other situations, the machine will continue working as long as the power supply return to normal
Made of food-grade PP material, non-toxic & healthy
Package Included:
Seedling tray:1 x Manual seedling tray+1 x Watering can
Automatic sprouter machine:1 x Automatic sprouter machine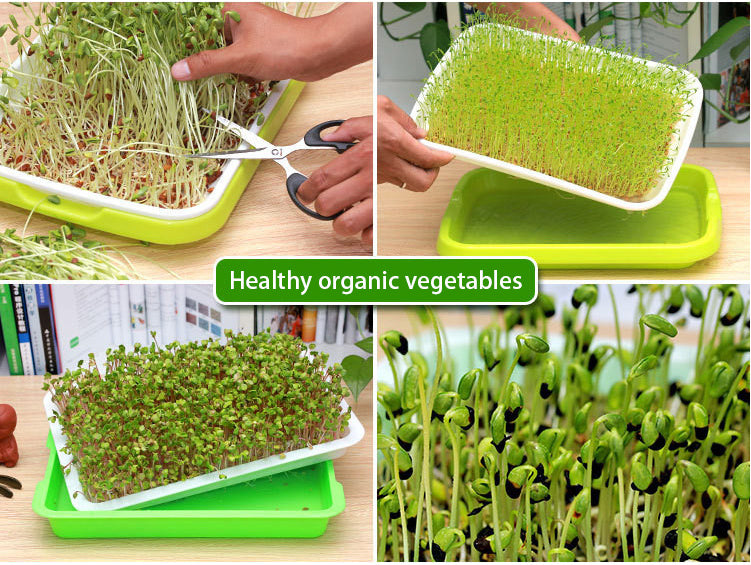 FAST DELIVERY!
Free shipping all over the world.
SECURE PAYMENTS!
Secure payment through PayPal & Stripe.
MONEY BACK GUARANTEE!
30 days warranty for all products.
FAST SUPPORT!
24/7 fast support for anything.